Women
Last night Yaxlich was watching the football with his housemate. It was a typical boys night in where conversation rarely extended beyond the occasional monosyllabic grunt which, depending on the occasion, translated into:


"Would you like a beer, old boy?"

"That was a shocking tackle, wasn't it?"

"So what do you think of the socio-economic demographic for Latin America that was published in The Times this morning? Shocking reading, what?"

Just after half time a female friend of his housemate (who he will now refer to as Mr E as it takes less time to type) turned up at the flat. Despite the fact that Yaxlich and Mr E were clearly watching the football, she spent the next hour or so talking incessantly.

Whilst this vexed Yaxlich a trifle (he didn't lick himself this time), the point that he wants to raise here is whether or not women have some kind of genetic defect which allows them to talk for an hour about nothing whatsoever.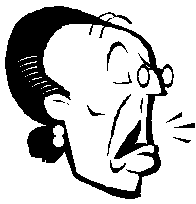 She sat and wittered on for an hour oblivious to the fact that when Yaxlich or Mr E grunted in a monosyllabic style to her that it did not translate into any of the above but "Shut up, woman, we're watching the football". Her blitherings seemed to have no purpose. They appeared to be random points, opinions and phrases loosely collected into a series of vague sentences. They had neither a beginning, a middle or an end.

When men speak it is normally because they have a reason for doing so and not just because they have forgotten what their voice sounds like. There is a problem to be solved or a question that requires an answer. Women, on the other hand, appear to view silence as being something evil which should always be filled with banal banter.

If Mr E's female friend is reading this, Yaxlich would like to set the record straight. On a scale of 1-10, the colour of the tiles in your bathroom ranks somewhere towards the lower end of the scale. It is joined with the answer to what dress you should wear to a wedding that isn't taking place for another 8 months, who should win this years X Factor, whether or not Robbie's new album is any good, how shockingly expensive organic food is in Sainsbury's, whether or not you should stay for 1 or 2 days at the wedding hotel (which still isn't taking place for another 8 months) and what to buy your work colleague, who Yaxlich has never met, as a leaving gift.

The result of a meaningless cup tie played in torrential rain between two teams that neither Mr E or Yaxlich support is an 8. Possibly a 9.